About Us - Executive Team
Executive Team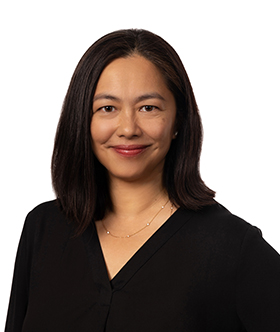 Caroline Tsai
Chief Legal and Corporate Affairs Officer
Caroline Tsai is chief legal and corporate affairs officer at FIS. Caroline oversees FIS' global legal, compliance and corporate secretarial functions. She also leads the corporate affairs function, including environmental, social and governance (ESG), government and regulatory affairs, and client risk relations.

Caroline most recently served as chief legal officer of The Western Union Company. In this role, she led the company's newly consolidated legal, compliance and enterprise risk functions as well as helped steer the company through the implementation of its new global strategy and digital growth initiatives, including its global migration to the cloud. Prior to joining Western Union in 2017, she spent more than 12 years in numerous executive-level legal roles at BMO Financial Group and Bank of America Corporation supporting retail banking, commercial banking and capital markets verticals and leading and executing legal, compliance, public policy advocacy and bank regulatory strategies that delivered results and aligned with desired and impactful business outcomes.

Caroline earned a Juris Doctor degree from the American University Washington College of Law and a Bachelor of Arts degree from the University of Michigan.
Vamos conversar
Juntos, podemos trabalhar para atingir seus objetivos de negócios. Por favor forneça seu endereço de e-mail abaixo e um representante entrará em contato com você em breve.